Banner Elk Winery has set the standard for crafting wines in the High Country that stand among the finest in the country. Our vineyards offer engaging Wine Tastings and glimpse into what the storied High Country Wine Region is truly made of.
Embark on a journey into the North Carolina wines!
Discover our selection of wines
The Banner Elk Winery winemaking team crafts each wine with the varietal character in mind, choosing gentle techniques tailored to bring out the aromas and flavors that each grape variety develops. The resulting wines have exceptional value tested by customers and awarded by regional and international wine contests.
Marechal Foch
Cabernet Sauvignon
Banner Elk White
Banner Elk Red
Seyval Blanc
High Country Rosé
Banner Elk Blueberry Wine (Estate)
Banner Elk Blueberry Ice (Estate)
For more info about our wines please visit Banner Elk Winery.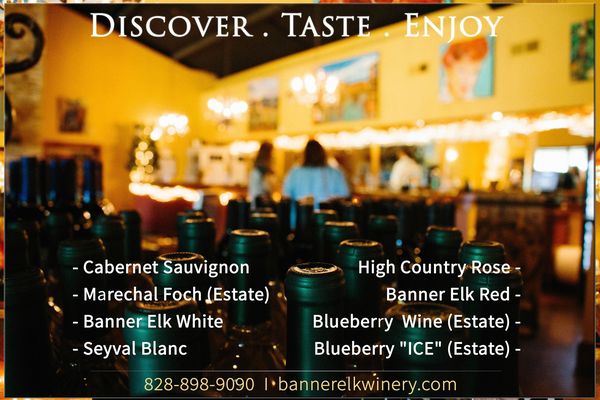 Our wines and their food pairings:
Here are some of the most awarded wines Banner Elk Winery produces as well as the foods we recommend they go along with:
Banner Elk Winery Wine
Food pairing
Marechal Foch
Creamy cheeses
Lamb
Tomato based pastas
Cheesecake
Cabernet Sauvignon
Prime rib
Roasted duck
Lamb
A variety of hearty artisan cheeses
Seyval Blanc
Seafood
Cheeses
Entrees of chicken
Duck
Veal
High Country Rosé
Light cheeses
Sushi
Pasta
Roasted chicken
Thanksgiving turkey
Carolina barbeque
Banner Elk White
Grilled salmon
Spicy foods
Vegetarian dishes
Rich cheeses
Banner Elk Red
Meats
Salmon
Cheddar cheeses
Pasta marinara
Banner Elk Blueberry Wine (Estate)
Vegetarian entrées
Fresh fruits
Desserts
Banner Elk Blueberry Ice (Estate)
Toasted nuts
Aged cheeses
Thai & Asian cuisines
Please remember that our WINE SELECTION may change based on availability, harvest, and season. We continually strive to expand the variety of wines we offer to our customers.
The most recent reviews for our winery and wines
"Best Winery in Banner Elk"
Wonderful winery in Banner Elk. Close to skiing and shopping. Great wines. Love their blueberry wine and their jalapeño sangria. Wine tastings available or buy a bottle/ glass and just enjoy listening to live music. Great place for all ages. Wonderful service, great staff. Great way to relax and spend the afternoon.
"Awesome experience!!"
Lisa was awesome in our wine tasting experience. She is extremely knowledgeable & a great host!! What a great wine adventure. Great wines with wonderful tastings of chocolate pairings. This is a must visit if you are a wine enthusiast!!
To read more customer reviews visit our Testimonial page.
Tour & Tasting
Choose the season you wish to visit us and have a wonderful tasting experience. The winery is open daily from noon until 6:00 PM. Enjoy our beautiful outdoor patio year round, or relax in the enclosed tasting room.
Tours are available May - September, Saturday and Sunday, from 2:30pm and 4:30pm, by appointment only.
Amidst the winery setting, customers may view our gallery collection of original pieces of art from renowned local and international artists, updated throughout the year.
To learn more about our winery and wine,
or to plan your visit over the phone,
please call our winery at
(828) 898-9090
and we will be happy to help you!