2013 INTERNATIONAL EASTERN WINE COMPETITION
Sonoma County, CA
GOLD MEDALS
2011 Banner Elk Red
2011 Marechal Foch
2012 NEXGEN WINE COMPETITION
Sonoma County, CA
GOLD MEDAL
2011 Banner Elk White
2012 NORTH CAROLINA STATE FAIR WINE COMPETITION
GOLD MEDALS
2011 Seyval Blanc
2011 Cabernet Sauvignon
2011 NORTH CAROLINA STATE FAIR WINE COMPETITION
DOUBLE GOLD
2010 Marechal Foch, Best in Category
2009 Cabernet Sauvignon
Award-Winning Wines in North Carolina's High Country
The Banner Elk Winery & Villa is the jewel of the High Country. Nestled in the awe-inspiring majestic Blue Ridge Mountains stands the High Country's original winery.
Experience Banner Elk Winery & Villa, a luxury bed and breakfast ... it's a magical world. Wake each morning to a chef-prepared gourmet breakfast before you explore the gorgeous High Country, discover the local hiking trails, cast a fishing line in our private pond, or curl up with a book in one of our gardens.
Taste our award winning wine and taste a bit of luxury. It's the perfect place, to relax, re-inspire and rejuvenate ~ both inside and out.
Latest blog post
Thursday, July 10, 2014 by Alice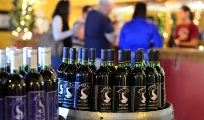 Recently, blueberries, the royal blue fruits, have been nominated among the "superfoods" of the United States. Did you know that July is the National Blueberry Month? So, let's celebrate not just the tasty, but the very healthy choice!
Read More
Wednesday, June 11, 2014 by Alice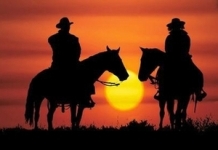 We all want to cherish the relationship we are in right now! But this is not always easy, especially in the busyness of day to day life. When you want to express your heartfelt commitment to that special one, quality time may speak louder than words. That means giving your loved one your undivided attention and participate in activities that are pleasant for her or him.
Read More
Friday, January 31, 2014 by Alice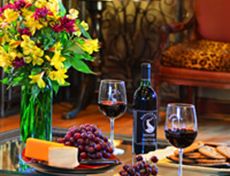 It's winter! If your plans are not done yet, here are the 8 best winter romance ideas. Delight in the nature's beauty with the love of your life!
Read More
Call
(828) 260-1790
to speak to a
reservation specialist
or