The Villa, A Private Retreat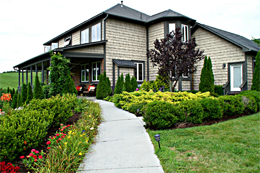 Life is an adventure. Why not make it the perfect adventure?
Escape to Banner Elk North Carolina, where you will discover The Villa at Banner Elk Winery. Nestled amongst the rolling hills, vineyards and a blueberry orchard is Banner Elk Winery's luxury private villa.
The Tuscan inspired Villa features eight luxuriously appointed suites, two with fireplaces. Each suite features a king or queen sized bed adorned in luxurious linens and abundant pillows, private jacuzzi tubs and breathtaking mountain views from every window.
Awaken to the soothing songs of nature as you enjoy a cup of coffee on the scenic veranda. Stroll through the blueberry orchard and gardens or journey up the mountain to the upper vineyard for an awe inspiring view of the expansive Blue Ridge Mountains. Unwind by the pond to enjoy a glass of wine to admire the magnificent sunset. Whatever your indulgence, you can unwind in your very own private vineyard setting.
Banner Elk Winery & Villa offers the ultimate wine country experience: views, location, setting and privacy. Enjoy the serene pleasures of tranquility and beauty, while still being minutes away from downtown Banner Elk.