The Villa, a Luxury Bed & Breakfast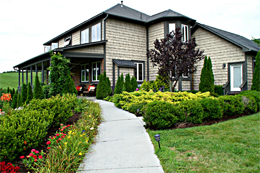 Life is an adventure. Why not make it the perfect adventure?
Escape to Banner Elk, North Carolina, where you will discover The Villa at Banner Elk Winery. Nestled amongst the rolling hills, vineyards, and a blueberry orchard is Banner Elk Winery's luxury bed and breakfast, The Villa.
Restore your soul in the ambience of our Tuscan inspired Villa. We offer eight beautifully appointed suites, two with private fireplaces. Each features a king or queen-sized bed adorned in luxurious linens and abundant pillows, private jacuzzi tubs, and thick plush robes. Breathtaking mountain views from every window beckon guests to come explore the High Country.
Awaken to the soothing songs of nature and recharge with a complimentary chef-prepared breakfast from the veranda or large round dining table. Guests also receive a complimentary wine tasting. The Villa also offers wireless internet for our guests.
Add a Romance Package for anniversaries or just to show someone how much they mean to you.
Celebrate life's special occasions at Banner Elk Winery & Villa with our concierge services. Whether you need a birthday cake, private massage, spa treatment, outdoor adventure, or a bottle of wine or chef prepared dinner in your suite, Terri, our concierge specialist, is happy to fill your requests.
Contact Terri by email: Terri@bannerelkwinery.com.
Relax with friends or that someone special as you enjoy a cup of coffee, hot tea or a bottle of wine in front of the fire in the cozy den. Stroll through the luscious gardens or journey up the mountain to our upper vineyard for an awe inspiring view of the expansive Blue Ridge Mountains - you can see for miles!
Call
(828) 260-1790
to speak to a
reservation specialist
or