It's winter! If your plans are not done yet, here are the 7 best winter romance ideas. Delight in the nature's beauty with the love of your life!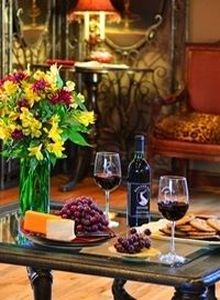 1. Experience Banner Elk Winery & Villa, a luxury private retreat. It's a magical world. Wake up the next morning to a chef-prepared gourmet breakfast before you explore the gorgeous High Country, discover the local ski slopes, take a walk in the beautiful nature, or curl up with a book in front of the fireplace. Enjoy the silence and the peace all around you.
2. Plan a private award winning wine tasting and enjoy a bit of luxury. Banner Elk Winery & Villa is the most acclaimed winery in North Carolina's High Country. We continue to lead the region's commercial wine industry by providing guidance and encouragement to other local farms that follow our lead in planting vineyards with new French-American and American varieties of grapes.
3. Pamper your loved one with a private, in-room, spa service, at Banner Elk Winery & Villa. In-room massage treatments refresh your mind by reducing daily stress, rejuvenate your body by entering a relaxed recovery mode, and restore your soul through the simple pleasure of having a therapeutic massage in the comfort and privacy of your Villa suite.
4. For those seeking a healthier way of life a unique 5-star weight loss retreat is a truly unmatched romantic gift. Enjoy an all inclusive customized approach to fitness designed especially for you.
5. Surprise your loved one with a gift certificate for any massage, treatment or getaway package or really spoil them and include a spa service with a Banner Elk Winery & Villa getaway package!
6. For wine lovers, surprise them with a gift of award winning wines from Banner Elk Winery.
7. Adventure packages are the best gift ideas for the adrenaline junkies combined with a genuine luxury experience. Discover the finest in guided travel combining comfort and personalized service in the Blue Ridge Mountains. Banner Elk Winery & Villa is unmatched in the region for its attention to details in furnishing and service. We are committed to offering our guests the finest level of service and safe, quality outdoor experiences during their visit.
A perfect occasion in the perfect place, relax, re-inspire and rejuvenate, inside - out!