There is something magical about FALL in Banner Elk, North Carolina! The colorful leaves, the smell of fresh grapes and wine, the refreshing mountain air in the mornings and the warm sun rays shining so uniquely on the Banner Elk vineyard... all are beautiful and unique, captivating and memorable!
Banner Elk Winery & Villa
Enjoy the beauty of the season at Banner Elk Winery & Villa, where our guest suites offer elegant decor, gourmet breakfasts and beautiful scenery. Nestled amongst the rolling hills, vineyards and a blueberry orchard the private Tuscan inspired Villa features eight luxuriously appointed suites, two with fireplaces. Each suite features a king or queen sized bed adorned in luxurious linens and abundant pillows, private jacuzzi tubs and breathtaking mountain views from every window.
Cabernet Grand Suite
Alicante Grande Suite
Seyval Blanc Suite
Zinfandel Suite
Chardonnay Suite
Bordeaux Suite
Blueberry Suite
Pinot Grigio Suit
Awaken to the soothing songs of nature as you enjoy a cup of coffee on the scenic veranda. Stroll through the blueberry orchard and gardens or journey up the mountain to the upper vineyard for an awe inspiring view of the expansive Blue Ridge Mountains. Unwind by the pond to enjoy a glass of wine to admire the magnificent sunset. Whatever your indulgence, you can unwind in your very own private vineyard setting. Enjoy the serene pleasures of tranquility and beauty, while still being minutes away from downtown Banner Elk. Here you will find something for everyone, spectacular restaurants, casual fine dining, luxurious B&B's, arts, entertainment, outdoors and many more.
Special offer at Banner Elk Winery & Villa
It's a perfect place to relax, unwind and explore, therefore we have prepared a special offer for you! Buy 2 nights with us and we'll provide the 3rd night free. This offer includes a complimentary bottle of our renowned Banner Elk White or Banner Elk Red wine as well as gourmet breakfasts in the villa for all 3 mornings. And if that doesn't already have you in the car on your way here, we're offering a free wine tasting with our wine specialists! The offer is available Sep 3, 2019 - Sep 30, 2019 for at least 3 consecutive nights.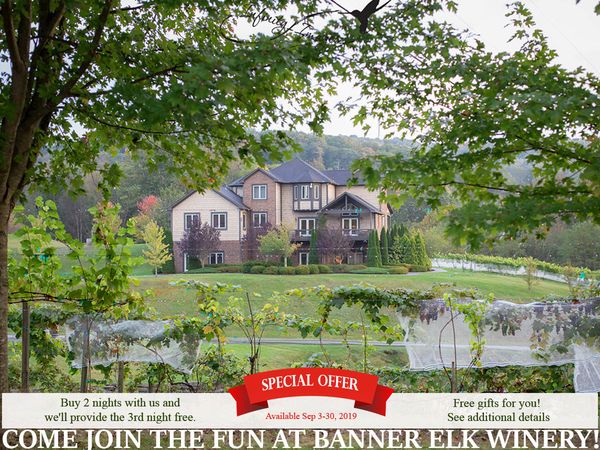 Banner Elk Winery & Villa Special Offer, Photo credit: Infinity Images
Do you want to find out more about our special offer? Please contact us now at 828-898-9090 and we will be happy to answer any questions!
Customers testimonials
Take a quick look at what our customers are saying about Banner Elk Winery & Villa!
Banner Elk Winery & Villa on Google
Banner Elk Winery & Villa on Tripadvisor
Banner Elk Winery & Villa on Facebook
Are you interested in staying in our cozy accommodations? Contact us now at 828-898-9090. Banner Elk Winery & Villa is happy to answer any questions, or help you plan your next escape to The Private Villa.
Come join the fun at Banner Elk Winery!