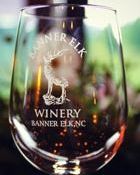 In 2006, the age-old tradition of winemaking made its debut in the region with the establishment of Banner Elk Winery, the first commercial winery built in Avery and Watauga counties. Banner Elk wines pay tribute to the rugged mountain landscape and capture the delicate nuance and subtle flavors of the fruits. Our vintners produce excellent wines that reflect the unique characteristics of the Blue Ridge Mountains.
Banner Elk is the perfect place to relax, re-inspire, and rejuvenate, inside-out.
It's a place to enjoy in all seasons. Linger awhile. Warm up by the cozy fire with a glass of wine as you are dazzled by an unforgettable sunset that accompanies you in a luxurious, gorgeous setting. It's hard not to fall in love or be inspired when surrounded by such beauty. Have your coffee while you stroll through nature in the mornings. Sip a glass of wine and watch the swallows play above the pond in the evenings.
Here are some of the most awarded wines Banner Elk Winery produces as well as the foods we recommend they go along with:
Marechal Foch - creamy cheeses, lamb, tomato based pastas, cheesecake
Cabernet Sauvignon - prime rib, roasted duck, lamb, and a variety of hearty artisan cheeses.
Seyval Blanc - seafood, cheeses, entrees of chicken, duck, and veal.
High Country Rosé - most lighter cheeses, sushi, pasta, roasted chicken, Thanksgiving turkey, and even Carolina barbeque.
Banner Elk White - grilled salmon, spicy foods, vegetarian dishes, and rich cheeses.
Banner Elk Red - meats, salmon, cheddar cheeses, and pasta marinara.
Banner Elk Blueberry Wine - vegetarian entrées, fresh fruits, and desserts.
Ice Wine - toasted nuts, aged cheeses, and Thai & Asian cuisines.
Stop in for a tasting year round from noon until 6:00 p.m. Tuesdays through Sundays. We offer private tastings for parties of 10 or more with advance scheduling of at least one week notice. Currently, private lunch and dinner is by reservation only and can be made by emailing our concierge.
For more details please visit Banner Elk Winery & Villa and taste the richness of the earth and the fullness of the sun.