One of the most fun things to do when you are on a short vacation is to spend some time at a winery, cause when you're on vacation, wine tastes even better!

If you would like to visit Banner Elk Winery you will have the chance to taste and enjoy our awarded wines, which are delightful!
But the enjoyment doesn't have to stop when the tasting room closes! You can stay with us and enjoy everything the High Country Region has to offer, all conveniently in the same location.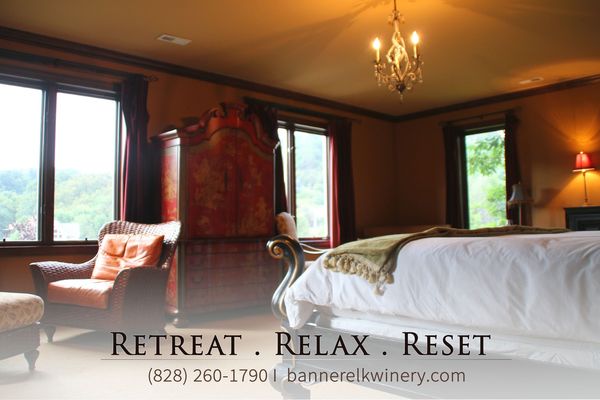 Extend the great grape experience by staying overnight at Banner Elk Villa, the Tuscan inspired villa that features seven luxuriously appointed suites, named using the most famous wines of North Carolina. Minutes away from downtown Banner Elk, the Villa offers the ultimate wine country experience: views, location, setting and privacy.
A lot of times the winery may have live music at night which lets you enjoy the music with a bottle of wine and not have to worry about driving home or to the local hotel. How nice it is to just walk to the winery's lodging to stay the night. Isn't it convenient?
Individual rooms and reservations are available on a limited basis
and can only be made by contacting us directly at
(828) 260-1790 or emailing us at info@bannerelkwinery.com
If you love wine, Banner Elk Villa is your place to stay!