One of the most efficient advertising tools we have is our guests testimonials. They are honest and blunt, teachable and inspirational. We know this very well and this is why we are so appreciative to you, our guests!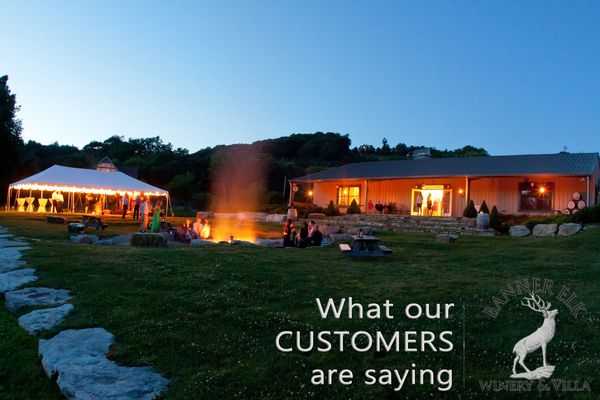 According to Tripadvisor a recent study revealed the huge reviews impact on travelers' decision-making. It states that 53% won't commit to a booking until they read reviews, and 80% read at least 6 – 12 reviews prior to booking. 83% of the respondents indicated that reviews help them pick the right hotel. Are you among those? As for attractions and restaurants 68% of respondents say reviews help them know about attractions while 64% read reviews to find better restaurants. Are you among those as well?
Banner Elk Winery & Villa mission
At Banner Elk Winery & Villa, our team enjoys doing its job, trying to achieve excellence but if you, our customer know that we are lacking some aspects of doing a brilliant job, we would appreciate your feedback in improving our services. Its our way to assess how our business is performing. We want to offer you a great stay in our facility, while enjoying good products We want you to come back soon bringing more company!
Banner Elk Winery & Villa reviews
Our future guests will love to find out about your experience as a customer of Banner Elk Winery & Villa, no matter how unexpected, or uninteresting that was for you. It is of big value for them and for us as well. Finding out what caught your attention is very eye opening, and inspiring, like these reviews, for example:
"Will take the family next time in Banner Elk as they have bocci and corn hole! Would highly recommend for a girls getaway, family, or couple/s." MaryWoodsO
"Finally, there is often love music, a dog running around, and plenty of space for your large group." Kmonson01
"If you are looking for a real "BAR" experience, this is it!" Mbwheelhouse89
"What a great wine adventure. Great wines with wonderful tastings of chocolate pairings." Cathy B
"Great wines. Love their blueberry wine and their jalapeño sangria." LKNFour
"The villa is huge with spacious rooms and a very relaxing atmosphere. The hot tub is a plus also. We walked over to the winery often and were surprised to taste some of the finest wine anywhere in the world. The prices are very reasonable as well. We explored many attractions all within a few minuets drive.The whole setting was simply amazing" GreatEscapesKayak
"Beautiful location with outdoor seating and lake. Outdoor games and pet-friendly too! Live entertainment was relaxing and quite good." Valerie A
"While we sat down and had nice glasses of wine, the children were able to play and run around the grounds without any problem. They were on the grass and played bocci, which was set up for them." marshakrady
If you want to read more, here are some of them listed on the Banner Elk Winery & Villa Testimonials page.
Your review for Banner Elk Winery & Villa
We would appreciate to know our guests expectations and how we can meet those better. Therefore, please take the time to visit any of the two ways to add your review on a site:
Thank you for being part of our Banner Elk Winery & Villa community,
and sharing your experience with us all!