On Saturday, April 22, 2017 Banner Elk Winery Tasting Room will be hosting a special book signing event. We are honored to present you, Richard Wolfe, Ph.D. one of our beloved owners, who has written the "Life With Coffee" and "Climbing Kilimanjaro at 70". The book signing event will be hosted from 3pm to 6pm, while both books willbe on sale, -)and also accompanied by many wonderful stories from behind the scene.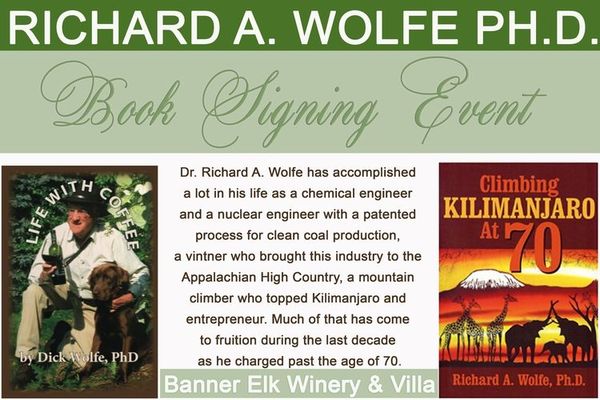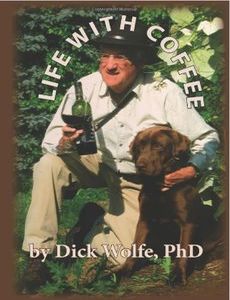 Dr. Richard A. Wolfe has accomplished a lot in his life as a chemical engineer and a nuclear engineer with a patented process for clean coal production, a vintner who brought this industry to the Appalachian High Country, a mountain climber who topped Kilimanjaro and entrepreneur. Much of that has come to fruition during the last decade as he charged past the age of 70. During that time his near constant companion was a Chocolate Labrador Retriever with a gregarious and adventurous personality named Coffee. This is the story of that life – with Coffee.
Dick Wolfe is a nuclear engineer, a vintner, and a dreamer who makes his dreams come true. As a coal miner's son, he saw the movie The Snows of Kilimanjaro about forty times, and vowed to someday climb that mountain. Indeed, Dr. Wolfe celebrated his seventieth birthday on the slopes of Mount Kilimanjaro on his way to the top. This account of his preparations and the accomplishment of his dream, highlighting the people who helped him achieve his goal, is inspiration for us all. The book includes color photos by Dr. Wolfe and the nephew who accompanied him.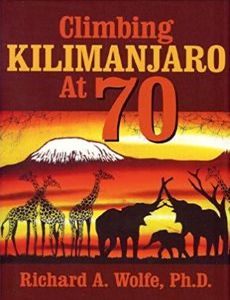 Meanwhile, we will be running tastings from noon to 6pm as usual, and you are invited in for a glass or a bottle of wine.
You are welcome to enjoy wonderful stories with wonderful wines!!