Fall in Love with the High Country and experience an unforgettable wedding at Banner Elk Winery & Villa. Create picture perfect memories and enjoy breathtaking views, as you say "I do" in a peaceful calm setting in the Blue Ridge Mountains. Banner Elk Winery & Villa has the experience and expertise to host the wedding of your dreams.
And if you still need a reason to get married in the High Country read 7 Reasons to Marry In The Mountains.
1. Panoramic Views, a whole spectrum of gorgeous landscapes
A wedding is more than just a ceremony. It's family and friends coming together to celebrate a memorable occasion. From expansive mountain views to intimate natural settings, incorporate the beautiful backdrop into your portraits, no matter the season. The higher the elevation, the sooner the leaves create a stunning decor to your fall wedding event. The colorful leaves can serve as a beautiful panorama for your wedding photos. Banner Elk is the perfect place to create a magical wedding experience in a magnificent alpine setting.
Wedding in the gorgeous landscape of Banner Elk Winery & Villa
2. Endless opportunities for you and your guests
No matter what the season, there are endless opportunities for adventure, relaxation, and togetherness, making Banner Elk an unforgettable destination for you and your guests. Whether on a hiking trail along the Blue Ridge Parkway or enjoying a local festival, the myriad of entertainment options will leave guests excited you chose the High Country to enjoy a scenic getaway to the mountains. To see just a few of the activities available in the surroundings, please read:
Best Things to do in Banner Elk when your are not visiting our tasting room - Part 1
and
Best Things to do in Banner Elk when your are not visiting our tasting room - Part 2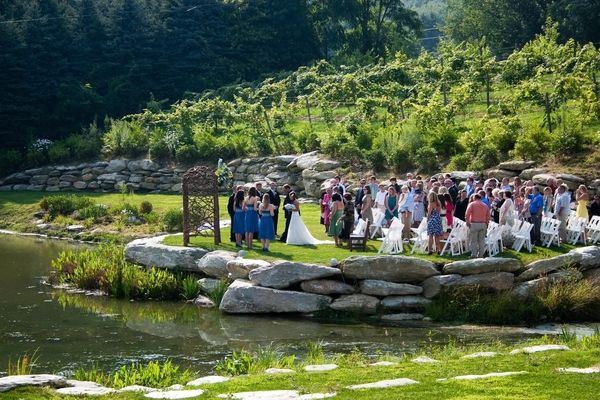 Wedding in the endless opportunities area of Banner Elk Winery & Villa
3. Southern hospitality will bless your event
At Banner Elk you will discover more than an inviting climate and beautiful surroundings; you will experience exceptional service and hospitality. People in the streets of a small town greet you with smiles. Children's laughter and joy flood local surroundings. Hikers say Hello and are happy to offer advice on trails. The food can comfort any soul. Most importantly, the vendors here will take you in and treat you as family, pouring love into every detail of your wedding.
4. Enjoy the abundance of talented local vendors
Some of the most talented vendors in the industry are found right here. Their camaraderie soothes planning anxiety and brings joy to the planning process. High Country vendors know each-other and work well together.
5. Take advantage of the local flowers
We all know the importance of the floral arrangements in a wedding setting. They add an extra touch of beauty setting the stage for a perfect day. Our local florists will help you choose native flowers and plants that complement the mountain scenery. In winter, sprigs of local pine not only create a warm atmosphere, they add an exquisite alpine aroma to the venue.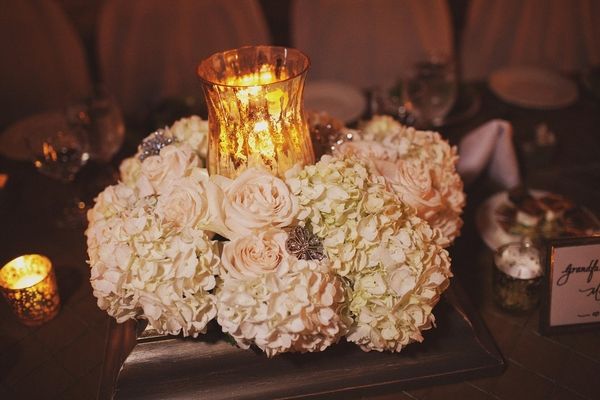 Wedding arrangement with local flowers at the Banner Elk Winery & Villa
6. Choose local, sustainable food
Our award-winning chefs create memorable dishes using local ingredients that are found along the High Country Mountains. Their food reflects the admiration and passion that they have for the area. We'll help you plan every delicious bite on the menu so that your guests rave about the dinner service!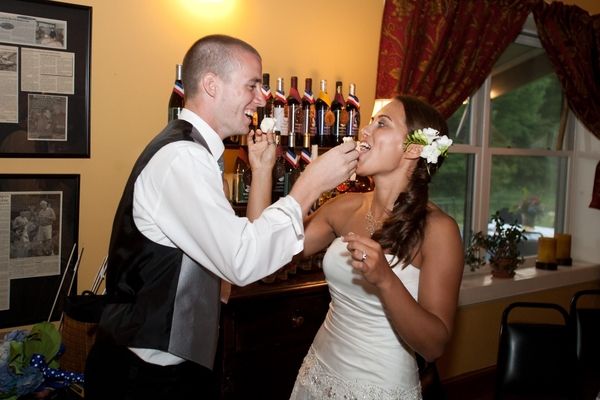 Wedding reception with local sustainable food at the Banner Elk Winery & Villa
7. It is the perfect place to start a family tradition
Return here each year to celebrate your anniversary, because history needs to be constantly written. With a bounty of charming inns and resorts, you will never run out of places to discover new experiences.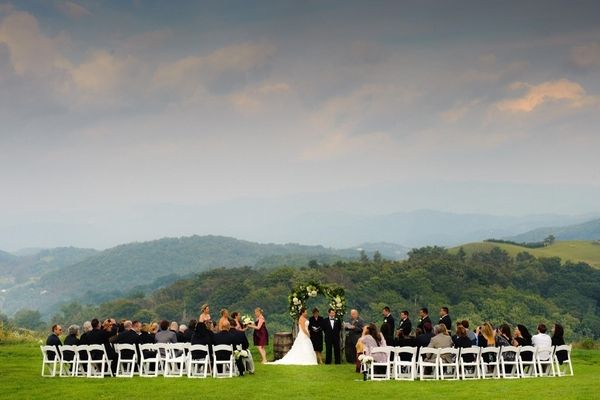 Wedding ceremony at the Banner Elk Winery & Villa
Whether you want a small, intimate wedding or an all-out party, Banner Elk Winery & Villa is the perfect wedding venue for you. Tour the place to decide which matches your style. We provide several wedding packages to choose from, because just like no bride is the same, no wedding should be the same. So, we offer several packages that can be customized to suit your tastes.
Wedding events are our specialty, your vision of a once-in-a-lifetime event becomes a reality at Banner Elk Winery & Villa.
For more information or to start planning your dream wedding today, call our wedding specialists Terri at (828) 260-1790 or email Terri@bannerelkwinery.com.