It's never to early to get started on your planning, the sooner you start, the more likely you are to get the date, location and vendors that you want before they're booked up.
Banner Elk Winery outstanding setting is simply breathtaking! Home to picturesque views, the winery is exclusive to one event per day, guaranteeing youdedicated and focused attention from start to finish.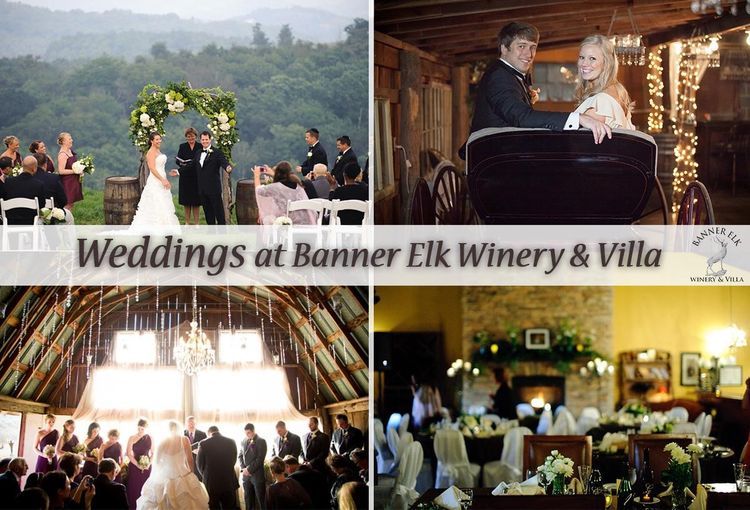 Weddings at Banner Elk Winery & Villa in North Carolina
Your wedding is a private and intimate celebration, personalized to reflect your choices and lifestyle. The Banner Elk Winery & Villa welcomes you to take advantage of our favored location and personalized services for your wedding day. We offer an array of wedding packages to fulfill your dreams and expectations. With our event planning specialist, Terri Johnson you can create the day that you always imagined with Banner Elk Winery & Villa handling most of the details.
Recommendations are offered for services we can guarantee are wonderful and privacy that is guaranteed with exclusive use of the property for your ceremony, photos and reception.
To get started, just give us a call and we'll determine what your needs are and which package will best suit you. For available dates, additional information, or to schedule your personal wedding tour at Banner Elk Winery & Villa please contact us at 828-260-1790, or submit a request through our online form. We still have some availability for your 2017 events, so, contact us today!
Reviews from our newlyweds:
Dreamy Wedding Here "My son's wedding was here. We stayed 3 nights, our party filled every room and all were impressed with their accommodations. The site is lovely with multiple areas (balcony, patio, large porch) for family members to relax and mingle. We were especially impressed with Terri and how she worked beyond the call of duty to arrange other activities (women's tea, wine tasting for guests, farewell brunch) in addition to help with the wedding. I highly recommend this site."
Casualtraveler55
"We just booked Banner Elk Winery & Villa for our wedding. After driving all the way from MA to tour the facilities, we were greeted with open arms, wonderful southern hospitality and a glass of wine. Lisa and Terri stayed with us through the entire day and completely exceeded our expectations. As a former guest relations employee for a Forbes Five Star hotel in Boston, I can absolutely spot a hidden gem and priceless customer service from 1000 miles away! Needless to say, Banner Elk Winery, Carolina Cabin Rentals (for the Villa) and our photographer (Jean Moree) have absolutely provided peace of mind during our planning process. I have no doubt our October wedding will go smoothly and be full of fun! Thank you Banner Elk Winery for a fabulous site tour and visit!"
Lindsey Fox
"My husband and I just got married here this past weekend, and everything was simply amazing! Our ceremony was at the Upper Vineyard and our reception was in the Enchanted Barn. We couldn't have asked for a more beautiful venue! The winery staff is top notch! Everyone was so accommodating, helpful, and courteous! The villa was the perfect place for hosting our family and friends! This is definitely a wonderful place to visit or host a special event! We cannot wait for our next visit! Thank you Banner Elk Winery for an amazing and unforgettable weekend!"
Lindsay Cotty
Banner Elk Winery and Villa... everything about this place was top notch. We just stayed at the Villa 11-14th and got married on the 12th at the Winery! It was awesome. ...The property is beautiful and all the wines were excellent in taste and price point. We will be ordering wine. We will definitely be back and have already planned on doing another photo session during our next stay. To the owners and staff at Banner Elk Winery...Well done! To wine fans, bed and breakfast fans, and romantics, what are you waiting for!
Mandy Barber
It would be our pleasure to assist you as well, just call us!