Alicante Barrel Grande Suite at The Villa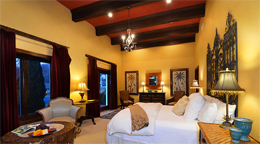 The spacious Alicante Barrel Grande Suite is located on the lower level of The Villa overlooking the trout pond, winery and mountain ridge.
A romantic gas fireplace and stunning dramatic 12-foot high has an exposed open beam ceiling. Guests delight in the room's diverse furnishings and intimate sitting area. The private bath has a pedestal sink, travertine marble, and Jacuzzi bathtub. French doors open to a semi-private patio and a path that leads to the winery, trout pond, and Enchanted Barn.
This suite also offers guests a separate entrance room with a foos ball table for those who like to play. A large screen television, crystal chandelier, and velvet floor length drapes are among the many special touches of the Alicante Barrel Grande Suite.
A coffee and tea bar selection and assorted pastry tray with seasonal fruit will be available in the mornings for our Villa Guests.