2013 INTERNATIONAL EASTERN WINE COMPETITION
Sonoma County, CA
GOLD MEDALS
2011 Banner Elk Red
2011 Marechal Foch
2012 NEXGEN WINE COMPETITION
Sonoma County, CA
GOLD MEDAL
2011 Banner Elk White
2012 NORTH CAROLINA STATE FAIR WINE COMPETITION
GOLD MEDALS
2011 Seyval Blanc
2011 Cabernet Sauvignon
2011 NORTH CAROLINA STATE FAIR WINE COMPETITION
DOUBLE GOLD
2010 Marechal Foch, Best in Category
2009 Cabernet Sauvignon
The Wines of Banner Elk Winery & Villa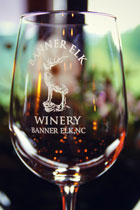 JOIN OUR WINE CLUB (Coming soon!)
Tours
May - October
$12/person2:30 & 4:30 p.m.
Friday's -Sunday's
Private Tours by appointment only. Please schedule at least one week in advance by email.
We Ship Wine!
Simply call the winery during Winter hours: Tuesdays - Sundays between Noon - 6:00 p.m. at (828) 898-9090.
Banner Elk Winery & Villa is the most celebrated winery in North Carolina's High Country. We continue to lead the region's commercial wine industry by providing guidance and encouragement to other local farms who are following our lead in planting vineyards with new French-American and American varieties of grapes.
Awards received to date in 2013 include two Gold Medals at the 2013 International Eastern Wine Competition for the 2011 Banner Elk Red and 2011 Marechal Foch. A Bronze medal was also recieved for the 2011 Banner Elk White. Held in Sonoma County, California, this is our first International competition.
Notable awards received in 2012 include Banner Elk White with a Gold Medal in the "Other Whites" division at the 2012 NextGen Wine Competition in California, and the only Gold in this division. At the 2012 North Carolina State Fair Wine Competition, Banner Elk Winery brought home Gold Awards for our 2011 Cabernet Sauvignon (many years running) and the 2011 Seyval Blanc. In 2011 at the State Fair competition, our 2009 Marechal Foch received the Best of Category-Red Hybrid along with a Double Gold Award. Our award winning Banner Elk Blueberry and Ice Wines continue to be popular.
Stop in for a tasting year round from noon until 6:00 p.m. Tuesdays through Sundays.
We offer private tastings for parties of 10 or more with advance scheduling of at least one week notice. Currently, private lunch and dinner is by reservation only and can be made by emailing our concierge, Terri.
Join our Wine Club to save on six or more bottles. (Coming soon!)
Marechal Foch $ 24.00
2013 INTERNATIONAL EASTERN WINE
COMPETITION, Sonoma County, CA
Gold Medal
2011 NORTH CAROLINA STATE FAIR
Best of Category - Red Hybrid
Double Gold Medal
Our Banner Elk Marechal Foch has received highest honors at the North Carolina State Fair, including the Double Gold Medal and "Best of Category" awards. Made from the distinguished Marechal Foch grape, this is a luscious, medium-bodied French-American hybrid with soft tannins and flavors of blackberry, cherry, and plum. It produces an intensely flavored and colored wine with a smooth, velvety finish that is versatile with a wide variety of foods such as subtle or creamy cheeses, lamb, tomato based pastas, and even cheesecake!
Cabernet Sauvignon $ 29.00
2012 NORTH CAROLINA STATE FAIR
Gold Medal
2011 NORTH CAROLINA STATE FAIR
Double Gold Medal
Our gold medal winner for years running at the North Carolina State Fair, our full-bodied, structured Cabernet Sauvignon displays a bouquet of predominant dark fruits led by black currant. It exhibits mature tannins from cellar aging in French oak barrels. Very much a traditional Cabernet, this wine will pair well with prime rib, roasted duck, lamb, and a variety of hearty artisan cheeses.
Seyval Blanc $ 21.00
2012 NORTH CAROLINA STATE FAIR
Gold Medal
Our Seyval Blanc is a crisp white wine characterized by focused expressions of citrus, apple, and melon. This marvelous wine grape is a French hybrid varietal that we believe achieves its ultimate potential in the high elevation of our local growing region. Our Seyval Blanc pairs well with seafood, cheeses, and entrees of chicken, duck, and veal.
High Country Rosé $ 18.00
This highly unique wine is a single varietal Rosé made from the Steuben (aka Ambrosia) grape. A dry Rosé, this wine is characterized by an astonishingly complex array of flavors including hints of fresh raspberry, strawberry, apple, tea leaf, and spice. Our Rosé pairs well with most lighter cheeses, sushi, pasta, roasted chicken, Thanksgiving turkey, and even Carolina barbeque!
Banner Elk White $ 18.00
2013 INTERNATIONAL EASTERN WINE
COMPETITION, Sonoma County, CA
Bronze Medal
2012 NEXGEN WINE COMPETITION,
Sonoma County, CA
Gold Medal
Banner Elk White is a softer white blend of Seyval Blanc, Traminette and Voigner grapes. Complex essences of citrus, honey, and apricot with a subtle residual sweetness makes this wine a delight when enjoyed alone or when paired with grilled salmon, spicy foods, vegetarian dishes, and rich cheeses.
Banner Elk Red $ 18.00
2013 INTERNATIONAL EASTERN WINE
COMPETITION, Sonoma County, CA
Gold Medal
Banner Elk Red is our winemaker's choice blend of our cellared Marechal Foch, Sangiovese, and Merlot. Smooth and medium-bodied, this wine exhibits vibrant expressions of cherry and raspberry against a backdrop of plum and toasted oak. It is an outstanding match for meats, salmon, cheddar cheeses, and pasta marinara.
Banner Elk Blueberry Wine $ 39.00
Produced on the site of our historic blueberry farm, our Banner Elk Blueberry Wine is a full-bodied and intense expression of bush ripened blueberries. It is fermented while chilled to the optimal temperature to result in a fruit-forward and aromatic style that pairs well with vegetarian entrées, fresh fruits, and deserts.
Ice Wine $ 65.00
From the best vintages, Banner Elk Winery produces an Ice Wine from high elevation grapes harvested late in the growing season at the first freeze. The grapes are pressed while still partially frozen. This method of harvesting and pressing results in a concentrated wine that is rich in flavor and aroma, while the high elevation of the vineyard preserves the natural acidity and overall freshness of the grape. Our Ice Wine may be paired with toasted nuts, aged cheeses, and Tai & Asian cuisines.
Vino Francesco Chianti Wine $ 25.00
Produced today in the same traditional methods used by our forebears, Vino Francesco is produced exclusively from grapes of Italian origin with no added sulfites. The wine grapes are partially fermented in whole bunches with natural ambient yeast, then pressed using an antique basket press, and clarified naturally during our long mountain winter in oak barrels. Vino Francesco is best enjoyed soon after purchasing.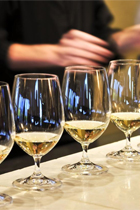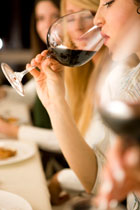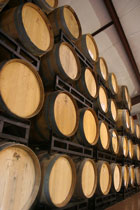 Call
(828) 260-1790
to speak to a
reservation specialist
or